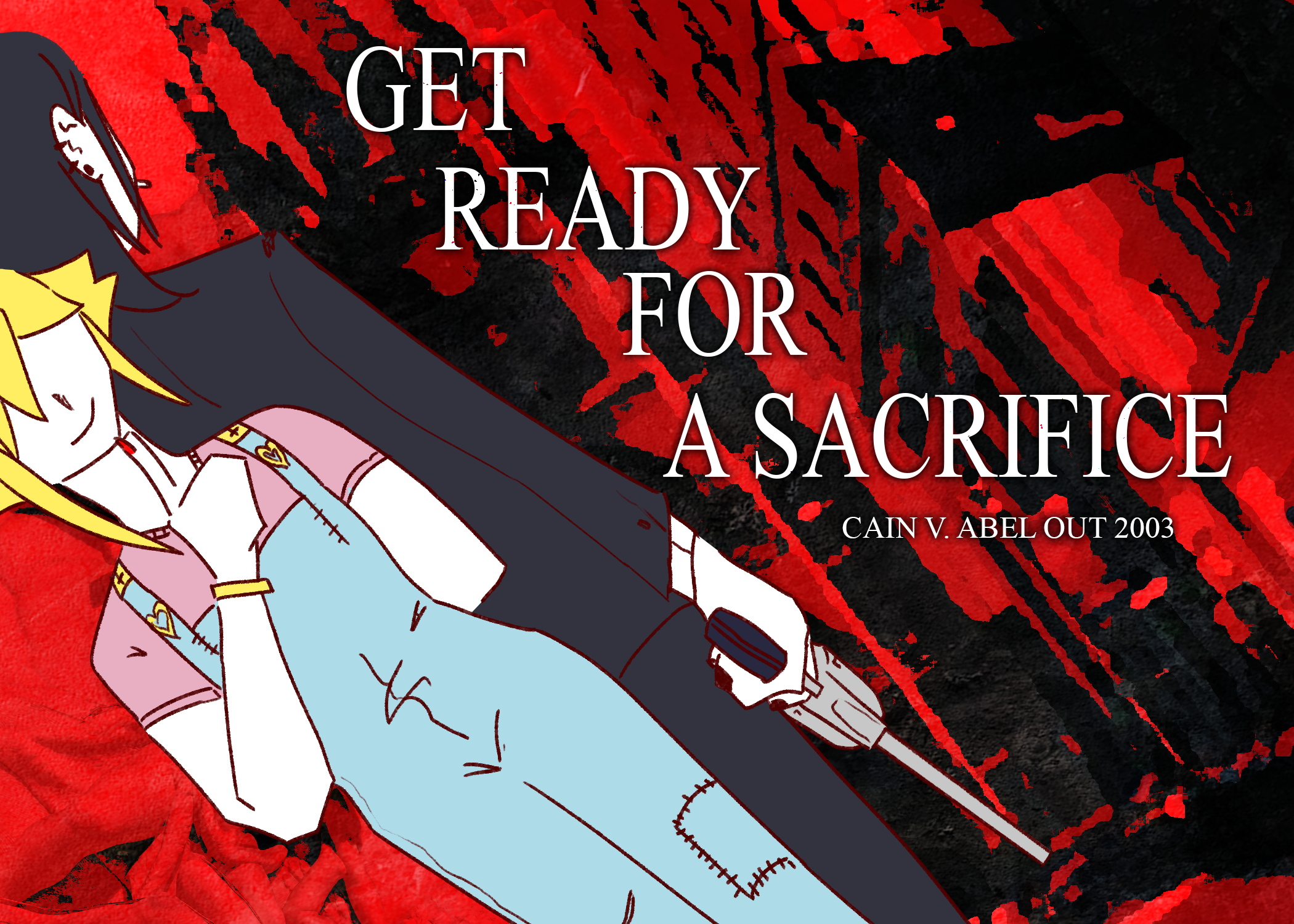 It's yet another day at a typical southern farm. All the machinery is resting after a long day. An older man approaches a young boy. They both sit down on a haystack.
OLD MAN
I got a message from the buyers, they just want more and more harvest, say our quality is very good.
YOUNG BOY
That's great, I've been really been killing my back all day so this is good news.
He chuckles
OLD MAN
I honestly don't know if we can even keep up with their demand, we might have to get more people involved than we already do.
YOUNG BOY
That's not really a bad thing, as long as the money keeps flowing getting more hands on board would mean you wouldn't have to work so hard.
OLD MAN
You saying I'm getting old?
YOUNG BOY
I've been saying that for years now!
They both laugh.
MATCH CUT TO:
There's a slight light coming from far away, barely visible, yet powerfully calling out for attention.
Screams are heard, a few people run out to the light.
The light reveals itself as a fire far greater than anyone could've anticipated.
JUMP CUT TO:
It's raining, the sky is darkened as if nature itself is sad for something.
The OLD MAN and the YOUNG BOY are standing together overlooking a wasted field. The YOUNG BOY offers an embrace to the OLD MAN, but he simply walks away.
A thunder strikes.
FADE TO:
OLD MAN
...God the Eternal, infinite, all wise...
The old man is seen crouched next to his bed. Down on his knees in all the humility a human could muster.
OLD MAN (cont'd)
...God who named the day and separated night from day.. If I have sinned, what have I done to you? Why make me a target? Have I become a burden to you?
Silence stabs back at the man.
OLD MAN (cont'd)
Every day I feel like this is just some perverted justice that's out of my control. I'd do anything to just fix it all and return to your grace...
A small creak from the door, a gust of wind.
The OLD MAN looks around slightly panicked, as if he saw something.
CUT TO:
The YOUNG BOY is standing around concerned, pacing slightly, when he sees the OLD MAN approaching he quickly turns to him.
YOUNG BOY
I can't find the young cows anywhere, they've been sleeping all night here, I put them in there myself, yet somehow they seem to have vanished without a trace. This all feels like some kind of twisted joke played on us by God.
OLD MAN
Be more humble boy, God gave us all this once before, he'll give it back when we really need it.
He shifts his position and places his hand on the YOUNG BOY'S head.
OLD MAN (cont'd)
Now go look for the cows some more, they have to be around here somewhere.
He gives a slight smile and receives one in return.
Meanwhile, a tall man is watching them from afar.
CUT TO:
Stench. The sound of flies fills the usually calm soundscape. The YOUNG BOY is laying on his knees with his hands covering his head in disbelief.
On the floor before him slaughter. Organs and bloody writings arranged in a circle. What was once a cow is anything but.
The YOUNG BOY wept that night.
CUT TO:
The YOUNG BOY is running away from something, he trips and falls multiple times until he can't run anymore. His legs give out and he covers his head in fear from whatever is following him.
The shadow of his pursuer is getting closer and closer, blocking out any hope of salvation.
OLD MAN
...once you're in the land of Moriah... he'll be happy for me... he'll be happy for all of us...
He shuffles forward in his madness. Grief completely overtaken his whole being. He raises a pitchfork and slams it down.
A piercingly loud sound fills the room.
A flash brighter than the sun.
A mysterious man, wearing a straw hat. His strong presence fills the room with an aura of deadly silence.
As the old man falls down, his body reveals the tall stranger, who's holding an AUTOMAG IV pistol. The barrel is giving off smoke after a freshly fired round.
YOUNG BOY
Oh my god thank you, thank you so much-
He cuts him off.
STRANGER
Get out of here. Reach the nearest church and ask the priest there for Lucy. He'll help you out.
The YOUNG BOY looks at him in fear, but nods and runs away.
STRANGER (cont'd)
It never gets any less annoying with you guys, always making a mess.
He drops his hat on the ground and picks up a shiny, white and gold feather. It illuminates the STRANGER'S face well enough to pick out his features.
Well enough to see who it is.
CAIN
As if God can't keep you bastards on a leash somewhere.
FADE TO:
FADE TO:
LUCIFER
YEEEAAAAAAAAAAAHHHHHHHHHHHHH!!!!
Tires screech loud enough to wake up heavens above. LUCIFER and CAIN are together in a car, LUCIFER is driving.
If you can call it that.
LUCIFER (cont'd)
THIS IS SO MUCH FUN ACTUALLY! WHEN YOU SAID IT'S A PAIN I ALMOST BELIEVED YOU FOR A MOMENT!
He laughs maniacally.
CAIN
For heaven's sake calm down your driving you're gonna-
He is interrupted by a bump in the road that sends him flying into the ceiling.
CAIN (cont'd)
FUCK!
CAIN covers his head in pain and annoyance. The sight of that cracks up LUCIFER even more.
CAIN (cont'd)
I swear to everything that's holy! If you get pulled over I'm letting them take your license away.
The run down husk of what might've at one point been called a 67' Corvette pulls up near an equally run down apartment building.
LUCIFER
You'd never do that silly! I don't think I've seen a person before who's more eager to jump at any cop they see.
CAIN mumbles something under his nose.
LUCIFER (cont'd)
Can't say I disagree with that though.
CUT TO:
LUCIFER dives onto the, frankly nasty, couch like a house cat. CAIN doesn't bother fighting for the space and sits down on the floor in front of him.
LUCIFER
Turn the TV on. My show's up by now!
CAIN looks left and right for the remote.
CAIN
Christ, the stupid thing got lost again.
They both start lifting pillows and picking up furniture. In all the commotion the shiny feather drops out of CAIN'S coat.
LUCIFER
Oooh! What do we have here!
He catches it into his hands.
LUCIFER (cont'd)
You didn't tell me you were into bird hunting.
CAIN
I'm not. I found this the other day at the farm, forgot to dump it out.
He tries to snatch it out of his "Small Annoyance's" hand, but LUCIFER simply rolls behind the couch.
LUCIFER
Uh-uh! I haven't seen this pattern in a long time! What a find!
CAIN
Can you just find the remote, I don't care about your feather fetish.
LUCIFER
And I don't care about your remote fetish.
He realizes something
LUCIFER (cont'd)
WAIT! MY TV SHOW! LOOK FOR THE REMOTE!
The feather falls back on the floor and hides in the shadow, as if by it's own will.
CUT TO:
CAIN is staring longingly out the window. It's one of those unfortunate nights for the eye-patched man. A cocktail of guilt, emptiness and anger, with an adult taste to it.
LUCIFER is deep asleep on the hastily laid down inflatable mattress.
Looking at the sleeping beauty brings a bit of peace to the tall man.
Even a little bit counts for something.
CAIN
Hibernating like a bear again, huh. Uncharacteristic for a twink like him.
He sits down on the couch and closes his tired eye.
MATCH CUT TO:
Loud ringing makes Cain jump from his comfortable position.
CAIN
I'M COMING, ALRIGHT?
He starts walking while putting on a shirt.
CAIN (cont'd)
It's eight o' fucking clock. No rest for the wicked in this fucking pla-
He's interrupted by another ringing, this time of the phone.
LANDLORD
OPEN UP! IT'S BEEN LIKE THREE WEEKS SINCE YOU WERE MEANT TO PAY UP THE RENT!
CAIN
Oh my fucking... LUCY! GET THE PHONE
LUCIFER merely turns in his deep sleep.
Without any other option CAIN is forced to pick up the phone himself. At the same time as trying to stop the LANDLORD from breaking the door in half.
CAIN (cont'd)
Cain speaking.
LANDLORD
I DON'T CARE WHOSE SPEAKING! OPEN THE DOOR!
CAIN
CAN YOU NOT WAIT FIVE MINUTES!
SEBASTIAN
Um, is this a bad time?
CAIN
Yes, no, I mean just spit it out already.
The door creeks loudly.
SEBASTIAN
Well, I know you deal with say uh... the supernatural?
A little louder
CAIN
I deal with a lot of things.
LANDLORD
YOU'RE GONNA DEAL WITH WAY MORE WHEN I GET IN THERE.
CAIN
FIVE. MINUTES.
SEBASTIAN
Yes, so, to cut it quick, I've found something that... I'm really not sure, I think it's serious.
CAIN glances over at the bulging door.
CAIN
Pay.
SEBASTIAN
Wh- what?
CAIN
I'm not a charity, I also like to have fresh water once in a while.
SEBASTIAN
I-I'll give you upfront if you can just meet me here today.
CAIN
And where would I look for you Mr...?
SEBASTIAN
Sebastian, I'm the owner of the Judas Christ Gun Store, come see me.
Cain hangs up as soon as he hears those words.
The door finally gives in, tripping CAIN on it's way down.
LANDLORD
YOU HAVE TIME TILL LATER THIS WEEK, IF YOU KNOW YOU WON'T BE ABLE TO GET THE MONEY, GET THE FUCK OUT.
He leaves in anger.
LUCIFER comes from around the corner.
LUCIFER
Did something happen?
CAIN just makes a tired expression at him.
CUT TO:
The streets are filled with many people that day. Christmas season is approaching and everyone is looking forward to stockpile amounts of food unseen by mere mortal men.
CAIN is among the crowd, but he's not here for buying.
Dressed in his usual black suit, hands deep in his pockets, hiding away from the cold.
He quickly jogs down to the underground, unaware of a pair of eyes looking at him descent.
CUT TO:
The underground is a very different place to the pretty shops of the surface. Cramped hallways are littered with trash and illuminated by bright neon on the verge of breaking down.
A sign reads "Judas Christ Gun Shop". That's CAIN'S destination.
CUT TO:
The front door opens, making it's bells ring softly as CAIN enters the store.
CAIN
Sebastian, come up to the counter. It's me, Cain.
Silence.
CAIN (cont'd)
Sebastian?
CAIN enters the personnel-only door. Inside, stench of decay greets him.
The man named Sebastian is tied around a support beam with his organs wrapped around it neatly like a delicately arranged Christmas gift. The body was put on display with artistic intent.
CAIN (cont'd)
Shit. What the fuck happened here.
The awful smell would've overwhelmed any normal person by now. Even CAIN'S stomach was starting to turn.
The unwilling detective starts looking around for clues. Immediately his attention is caught on the floor.
The pool of blood that accumulated overtime leads his eyesight and betrays the location of a hidden door.
Mr. Detective begins to search for a delicate way in.
To no avail.
CAIN (cont'd)
Sorry Sebastian.
CUT TO:
A CAIN shaped hole is letting light into a small room full of documents, books and bizarre looking mechanical parts.
CAIN is standing with his back on the bookshelf
CAIN
I sure have found myself a nice little mystery. The gun store owner, gutted like a fish. His store upside down. Clearly someone was looking for something.
He lights a cigarette.
CAIN (cont'd)
Good thing they weren't the brightest, couldn't find this library, but who are "they" and what were they trying to find? When I think about it like that, I don't really feel like getting involved.
He looks up at the blood dripping from the steps.
CAIN (cont'd)
Sigh.
As he's about to leave, a familiar feather falls down at his feet. Looking at where it came from reveals more things of interest.
A red and white cross pin.
A symbol far too familiar for CAIN.
CUT TO:
Walking angrily out of the store, CAIN is about to put his hands back in the pockets of his suit jacket when out of the corner of his eye...
CAIN
Not a fan of voyeurism personally.
A smartly dressed man comes out of the shadows. His name is SOLOMON - a private eye and occasional exorcist. No big deal for a man of his caliber.
SOLOMON
And I've never really been a fan of your hostility.
CAIN knows him from a long time ago. Solved a few cases together. The usual demonic cult busywork.
CAIN
Well, you're not gonna like this either then.
Just a short sound of clothes moving is heard and before he can realize it, SOLOMON is at the less fortunate end of a gun barrel.
SOLOMON
You can put the gun down. I have a 99% certainty it wasn't you.
CAIN
How do you know what happened in there.
SOLOMON smirks.
SOLOMON
Been in there long before you. Tracked his phone records and saw your number. Decided it was probably worth to wait and ask a few questions.
CAIN puts down his gun, but keeps his hand ready to reach for it again.
CAIN
You're asking the wrong person, he was supposed to tell me the details face to face.
SOLOMON points at the Church Insignia CAIN has been holding.
SOLOMON
I think I might've gotten the right man after all. Haven't I?
CAIN gives up and stuffs his gun back in it's holster.
CAIN
Walk and talk.
SOLOMON
As you wish.
CUT TO:
The two detectives, one by choice and one by chance, are walking past the Christmas shoppers.
SOLOMON
He said he's new in town? How come you bought that?
CAIN looks at him grumpily
CAIN
What do you mean.
SOLOMON
Cain, this is the most famous Divine Gunsmith location in this city. The man was probably known by every wannabe demon hunter in the next three states over.
CAIN
I haven't been here long, guess you could say I was taking a vacation.
SOLOMON looks around at all the snow and early decorations.
SOLOMON
...Or a holiday break.
He stops in his tracks and picks up a snowball.
CAIN
Stop being a child, will you?
SOLOMON
Give it a break Cain, it's the season of capitalism! You gotta have fun and spend time with your loved ones to ease the stress a little.
CAIN gives him a disgusted look.
CAIN
You terrify me Solomon.
SOLOMON
There's a high probability that's a lie.
He picks up his pace a little.
SOLOMON (cont'd)
Anyhow - I do have a lead for you, just so you don't have to drop anyone down elevator shafts this time.
CAIN turns to the eccentric man. It was bizarre seeing him after all this time, yet he hasn't changed one bit. It was always like he had some God given way to deduce your next move. He only dealt with high chances.
In a way CAIN liked that about him, he wasn't chaotic, one could easily rely to him in a bad situation. Somewhere, deep inside his heart, he maybe even considered SOLOMON a friend.
He brushed that thought aside for the moment.
SOLOMON (cont'd)
Try the church on Westnight Street, they're holding a rather important meeting.
CAIN
What's my chance of finding something interesting.
SOLOMON
Likely. They don't carry those insignia for just any occasion.
CAIN once again looked at the small pin in his hand.
MATCH CUT TO:
"The Church of Jesus' Blood on the Cross"
Extravagant sign reads. Clearly designed to drag in believers.
It also features the symbol from before.
Just outside the white walls and colorful glass windows sits a row of expensive cars. All equipped with bulletproof glass and bearing Vatican insignias.
CHURCHGOER #1
...they're already in there
CHURCHGOER #2
Yeah, I heard it's something important.
CHURCHGOER #1
Really? I imagined it as more of a social visit.
CHURCHGOER #2
The Pope doesn't do house calls y'know. It's probably about funding.
CHURCHGOER #1
I guess you're right.
CAIN is rudely eavesdropping on the conversation. His face lit up by neon signs.
CUT TO:
CAIN
Lucifer. I'm gonna have to take care of a few things.
He leans on the phone and puts out the left overs of his cigarette.
CAIN (cont'd)
No, it's nothing serious...
LUCIFER could always see through his lies, even if he wanted to believe in them sometimes.
CAIN (cont'd)
Sigh... look - just don't get in my way.
Rude.
CAIN (cont'd)
Don't sweet talk me. See you soon.
He enjoyed bickering, even if he would never let it be known.
CUT TO:
Beautiful baroque style architecture, only gently modernized to fit with the new century. A meeting of old and new.
POPE
We greet you, it is utmost honor to hear from your kind directly, let alone from one of such high ranking.
The man speaks from the shadows. He's surrounded by armed men from all sides, betraying his mortality.
CAIN is looking at them through a window located on the roof. Designed to shine beautifully in the neon and reflect sunlight with a golden color.
CAIN
Everyone gather for the International Convention of Liars.
From the corner, a figure gracefully slides into view.
A person in a proper white suit. Not so much a businessman, more of a-
CAIN (cont'd)
Used car salesman.
They speak up.
MICHAEL
God's grace be with you. Thank you for humbling yourself before our Lord and letting us, mere passersby in this world, stay in your temple.
The POPE is clearly happy to hear such high praise from the creature.
CAIN
Michael. Should've figured God's perfect bootlicker would be involved in this somehow.
MICHAEL
Me and my brethren are on a mission, you see. And we ask for a simple favor from the men of god.
POPE
Please, ask away. Anything for our Lord's messengers.
MICHAEL
See. We're looking for Abel's corpse.
CAIN'S heartbeat goes up.
The name makes his world spin. A millions thoughts running through his head, blocking out any logic.
He sinks to the ground and clenches his fist with rage.
MICHAEL (cont'd)
Well, we are close to the location, we simply need help getting it safely out. The original martyr should get a proper burial after all.
Martyr? Proper burial?
CAIN isn't having any of it. He just barely stops himself from opening fire at the meeting attendees, clenching the handle ever tighter.
CAIN
You disrespectful prick.
POPE
The corpse of Abel?
Everything CAIN ever did somehow had it's roots in his long gone brother. He didn't really remember him that well anymore, just flashes from the short life.
He tried to remember only the good parts of it.
MICHAEL
The exact one you think of.
POPE
Please, let me gather the men, we'll have an excavation team ready in no time.
MICHAEL
Me and my brother will take our leave now then. We'll be glad to see you at the site. This pleases our Lord and I'll make sure you won't regret this decision.
POPE
I do believe that this might be the best news our establishment has seen ever since... well since the last time on of your brothers visited us.
CAIN
Dogs of God disrespecting an innocent man's grave? Disgusting.
CAIN clenches his teeth in rage.
The two figures get up and start walking away.
MICHAEL
May you have to strength to never sin and let all sinners be judged. Farewell.
They leave. CAIN is still crouched at the ground, shocked with anger.
A guard approaches.
CHURCH GUARD
Hey, this area is off limits.
CAIN doesn't have any words to spare for him.
CUT TO:
A guards body is firmly planted on an armored car's roof.
CUT TO:
CAIN is storming off the Church's ground with heavy, anger filled, steps.
He heads inside the first 24/7 store he sees.
CUT TO:
CAIN
Give me a pack.
CASHIER
Kind?
CAIN
Cheapest.
The cashier drops him a gross looking bland pack of cigarettes.
CASHIER
Thirteen.
CAIN
You've got to be fucking kidding me.
CAIN'S complaining is interrupted by a young looking man in a hoodie entering the store. Without speaking a word takes out a gun and points it in the direction of the cashier.
The youngster shaking in fear.
ROBBER
G-give everything you've got. It's loaded.
CAIN walks up to the ROBBER. Now their gun is pointing almost directly at the tall man.
The youngster seems to shrink in fear.
CAIN
What's the matter. I thought it was loaded.
He grabs the barrel and puts it up to his forehead.
CAIN (cont'd)
It doesn't seem to me like you have the resolve to pull that trigger.
The ROBBER is shaking more than before. Sweat is visibly dripping from their forehead.
CAIN proceeds to twist their gun arm, causing them to wince in pain.
ROBBER
I-I'm sorry, I was desperate, I didn't mean to do ha-
The tall man twist his arm further with seemingly no effort.
ROBBER (cont'd)
Please don't hurt me.
CAIN is losing himself in the anger, blocking out anything the thief is saying.
He throws a punch into their face. It's not pretty and it doesn't even feel good.
He feels disgusted with himself for punching the young lawbreaker. He thinks about how bad their situation must be to resort to armed robbery.
He's about to throw another punch when someone stops him.
LUCIFER
Figures I'd find you in a situation like this.
CAIN
Piss off.
He readies for a punch again but LUCIFER catches his arm before it can reach it's target.
LUCIFER
Lay off of him.
CAIN let's go of the ROBBER and shakes free of LUCIFER'S grasp.
They stare at each other for a second, before the taller man leaves the store without a word.
LUCIFER (cont'd)
Here.
He throws the ROBBER a pack of tissues.
LUCIFER (cont'd)
Sorry for the inconvenience. Now run out of here before he changes his mind.
CUT TO:
LUCIFER
CAIN!
CAIN hears him but doesn't turn around.
LUCIFER catches up to him.
LUCIFER (cont'd)
You could've killed that kid, dumb-ass.
CAIN turns to face him.
CAIN
And what's it to you? What's it to your angel ass whether humans die or not? Give me a fucking break.
LUCIFER
Oh, okay there Mr. Fratricide I didn't mean to impart any morals onto you.
CAIN pulls out a revolver at him.
CAIN
One. More. Word.
LUCIFER looks at him with a sad look on his face.
He clearly made the fallen angel upset and disappointed. He lowers the gun from his face only to see the heartbroken LUCIFER staring back at him.
CAIN (cont'd)
Fantastic, go ahead and cry, I don't have time to deal with this.
He didn't really mean it, but something was always pushing him to say hurtful things.
He felt the same feeling as when he punched that ROBBER.
With that, silence fell upon the whole street. The two of them standing there, trapped by the buildings that surrounded them.
LUCIFER takes a deep breath.
LUCIFER
Well It's -
CAIN
Don't bother. I have things to do.
He slid his revolver back into it's holster.
CAIN (cont'd)
It's business.
LUCIFER tries to break his silence again.
LUCIFER
Seems more personal to me.
CAIN looks at him with a raised eyebrow.
CAIN
No point in discussing it. Time to go.
CAIN starts walking away, LUCIFER quietly follows behind him.
As they leave, their partnership is intact, but the distance grows a little larger.
CUT TO:
It's a cold winter day, the sky is clear but occasional snow patches litter the ground.
A group of neatly dressed men is patrolling the location. Some of them are dressed like officers and bear crosses on their uniforms, others are dressed in combat armor.
The entire surrounding area of the beautiful mosque has been closed off for the day.
VATICAN OFFICER
Are we ready to enter? This place is giving me the creeps.
Younger officer asks a man hidden by an umbrella.
OFFICER KERN
Young one...
He gets up off the chair he was sitting in and reveals himself. He is an older man, scarred in battle. Rotten to the core, full of hatred of the different. A man paler than white snow, with bangs under his eyes that would trick you into believing his face was a naked skull.
OFFICER KERN (cont'd)
Get back to work.
VATICAN OFFICER
Uh- O-Officer Kern, I didn't realize it was you, I-I'm sorry for complaining.
KERN shoots him a vile look and goes back to what he was doing.
Watching the workers go in and out of the mosque, clearing rubble and dirt.
CUT TO:
VATICAN OFFICER #2
Get a fucking move on!
An officer pushes one of the workers onto the ground. They're mostly made up of locals dressed in torn clothes. Needless to say none of them are happy with the work.
Especially the one that just got pushed.
They get off the ground and clench their fist. A fight is imminent, but another worker jumps in and hurries their coworker towards the center of the dig site.
CUT TO:
The sunlight of the surface gives in to darkness occasionally illuminated by small lamps and lanterns. Men look like ants from the top of the cave, all digging towards a central point.
MICHAEL is watching it all from a higher platform, with him, a cloaked figure.
MICHAEL
It's truly wonderful to see how the Clay can organize and use each other. An army that doesn't fight.
The cloaked figure doesn't flinch, but responds in a monotone voice.
CLOAKED FIGURE
They're all sinners, Michael, meant to be judged on that alone.
Michael looks at him with a soft smile.
MICHAEL
Of course, that's why we're here after all.
He shifts in his seat and looks down into the pit.
MICHAEL (cont'd)
You value your position highly, correct?
CLOAKED FIGURE
It is a necessary one.
MICHAEL
That's right.
As he's saying these words, he overhears a commotion happening down in the dig site.
VATICAN OFFICER #3
We have strict orders not to touch the stone! Everyone get out!
The militia storms in and forcefully gets most workers out. OFFICER KERN enters to oversee the operation.
OFFICER KERN
You. Stop there.
He stops a worker with his cane. There's a long pause, then slowly he nudges the workers robe, making a golden idol fall to the ground.
OFFICER KERN (cont'd)
Deal with him.
With those words, a gunshot is heard and the worker falls to the ground. Shot dead with a Vatican-made bullet. KERN doesn't bother looking at the corpse, he simply orders it to be cleaned up.
VATICAN OFFICER #3
Sir. We found what matches the description.
OFFICER KERN
Take me to it.
The two of them ride an elevator down. At the bottom, a beautiful stone sarcophagus awaits them, with golden decorations and engravings in ancient tongues long forgotten by man. At the side of it, a familiar pattern.
Without a doubt, this was Abel's Grave.
One of the officers is drawn in by the beauty of it and touches the top of the sarcophagus.
OFFICER KERN (cont'd)
Imbecile!
His whole hand immediately sets ablaze and he falls to his knees, yelling in pain.
OFFICER KERN (cont'd)
Disgusting idiot. Put him out!
Men surround their officer and take him away all while attempting to put out a fire that doesn't seem to end.
Kern is not pleased.
OFFICER KERN (cont'd)
Call for the archbishop to bring down the seraphim blade.
CUT TO:
An archbishop's corpse is laying on the floor. Above him one of the workers is opening a metal plated box. With his bare hands he crushes the security mechanism and rips off the top.
Inside it is a delicately crafted knife, shining with an unusual glow.
WORKER #1
Angelic craftsmanship. No mystery about who got them this.
Behind him another worker is sitting on a box and waving their legs back and forth.
WORKER #2
It's a cheap one though! Barely enough to get through the seal on that.
The taller worker stashes the knife into his pocket, and immediately storms out of the tent into the blinding light of the outside, hoping not to get seen.
VATICAN SOLDIER
You there! Stop right now. What was your business there?
Hope sometimes isn't enough.
WORKER #2
Uh! Sorry Sir we got lost, we'll get back to work now!
The smaller one peaks out from the side of their coworker.
VATICAN SOLDIER
Show me what you got in your rode. Now.
The taller worker looks back at his friend.
VATICAN SOLDIER (cont'd)
I said now!
WORKER #1
Alright, take a good look.
He drops his robe to reveal he's wearing a black suit with four holsters, each holding a gun powerful enough to blow a hole through a brick wall.
To no one's surprise that's CAIN.
VATICAN SOLDIER
Oh shit.
CAIN swiftly puts three large holes into the soldier.
The small worker throws their robe into the air.
LUCIFER
It's showtime!
He attempts to lean on CAIN to strike a pose but he's met by the suit wearer simply walking away.
LUCIFER (cont'd)
You could at least wait for me y'know!
CAIN is storming through the field with the subtlety of a steam roller, smashing everyone in his way. For every bullet he receives, his rage grows stronger.
Right behind him, LUCIFER is gracefully ballet dancing through the battlefield, slashing all the stragglers before they can reach CAIN.
CUT TO:
KERN
What the hell is happening up there?! Don't just stand there, go up there you useless crap.
Soldiers hurry up the steps of the cave, behind them on the elevated platform, Michael stands up.
MICHAEL
Wonderful, truly magnificent. Their tactics are primitive and yet so electrifying to watch.
CUT TO:
CAIN
LUCIFER!
Cain found himself with a taser firmly planted unto his neck, firing electric shocks into his body. On top of said body lays a group of soldiers trying to restrain him.
CAIN (CONT'D)
LUCIFER!
Unfortunately for him his partner is busy dancing around machine gun fire.
With a clenching of his teeth he kicks off two of the soldiers tackling him down. Then the tall man proceeds to struggle his hands out, tearing chunks out of the soldiers as he does so, with horrific sounds of bones breaking.
Until only the taser holder remains.
VATICAN SOLDIER
No- please- please; I'm just following orde-
CAIN stomps his brain in.
CUT TO:
LUCIFER stands atop a military vehicle filled with corpses. He gleefully jumps off and starts heading for the cave entrance.
LUCIFER
Hm?
He notices something glow in his pocket. He reaches for the glow and takes out the mysterious feather from before.
The feather's glow grows and it forcefully flies out of LUCIFER'S hand.
At that moment a realization strikes him.
LUCIFER (cont'd)
Grave... of Abel...
CUT TO:
CAIN is storming in through a hole in the top of the cave. He immediately notices MICHAEL and turns his AUTOMAG I towards him.
MICHAEL
Take a look at that! Now that's a real trooper, wouldn't you agree?
CAIN doesn't say a word, he simply charges at him and opens fire.
Michael swiftly blocks the bullets with his large wings and let the CLOAKED STRANGER knock CAIN off of the platform.
CAIN doesn't make it easy for them, as he plants a handful of bullets firmly into the mysterious figure.
That doesn't help with stopping his fall as he painfully tumbles down and stops just before his brother's grave.
CAIN
Shit.
He mutters under his nose as he attempts to lift himself into a sitting position.
LUCIFER
CAIN! YOU HAVE TO GET OUT OF HERE!
LUCIFER arrives in a hurry unlike his usual cheery self.
CAIN (cont'd)
SHUT UP, JUST SHUT UP.
CAIN has had enough of skirting around the issue, he is sitting in front of the grave of a brother he killed, and in front of him stand two figures who are going to disrespect the memory of said brother. Letting them go would be equivalent to killing his brother another time.
CAIN (cont'd)
This bullshit ends now. I won't let any angel or devil get in the way of his legacy.
MICHAEL
Oh but Cain, this isn't just any random angel you're talking to.
CAIN
Shut up you smug bastard, fucker with daddy issues. You're worth as much as any second rate, lowest triad, good for nothing, cannon fodder angel. So as far as I'm concerned; You are any random angel.
MICHAEL
While I'd politely disagree with that, I wasn't talking about myself.
With those words said. All eyes turn towards the CLOAKED STRANGER, as they take a step forward and calmly remove their hood.
What resides inside makes CAIN drop his weapon to the ground. He lowers his guard as all strength seems to escape from his legs.
In the unknown angel standing besides MICHAEL he sees the face that he vowed to never forget. A face engraved into his memory wearing a still, lifeless expression.
The face of his brother.
The face of ABEL, the second human born and the first human killed.
ABEL
Brother Michael, he's strong for a human. Who is he?
ABEL asks in a monotone voice.
MICHAEL
Oh, I wouldn't worry about that Abel.
He puts emphasis on the name. Seemingly mocking CAIN.
LUCIFER
You bitch.
LUCIFER breaks the silence and forcefully slams MICHAEL into the wall, sending feathers flying.
Abel simply stands and watches.
ABEL
Do you need my help, brother.
MICHAEL
No need, he's much weaker than I remember.
LUCIFER grinds him further into a wall.
LUCIFER
What the fuck did you do to him.
MICHAEL
You mean Abel? He's a valued member of the triad now, works as the highest Judge of Souls.
LUCIFER
I should've figured He's actually done that. I thought it was just a rumor.
MICHAEL
You were always against the idea of making humans into angels, that's part of why He didn't like you.
LUCIFER clutches his teeth and throws MICHAEL to the opposite end of the cave.
It takes a moment for the Archangel to regain composure and stand back up.
MICHAEL (cont'd)
Oh Lucifer, It's very fun reminiscing about old times with you, but we have a mission to complete, if you don't mind.
With those words the top of the cave explodes letting in a streak of light that blinds LUCIFER momentarily.
At the bottom of the cave, ABEL stands above CAIN.
LUCIFER
CAIN!
He attempts to lunge to save his partner, but MICHAEL slams into him, making the devil spit out blood.
MICHAEL
So you bleed red now, huh.
LUCIFER
Get off me you freak.
As they wrestle for control, right next to the grave of all that was human about ABEL, the younger brother reaches to grab the angelic weapon out of CAIN'S pocket.
LUCIFER (cont'd)
CAIN! GET A HOLD OF YOURSELF!
MICHAEL
You're little clay puppet can't hear you now, brother.
With those words, MICHAEL throws off LUCIFER into a nearby sheet of glass, breaking it into tiny pieces.
MICHAEL (cont'd)
ABEL! Take the seal off the grave.
ABEL stabs the knife into the stone structure and a surge of energy turns the angelic weapon into dust. As it happens, four ropes descend from the hole in the cave's ceiling.
MICHAEL (cont'd)
Holy Officer Kern, ideal timing.
MICHAEL joins ABEL and they together attach the grave and get pulled out of the cave.
LUCIFER crawls out of the glass and scurries towards his still shocked partner. He falls to the ground and gently grabs his face and tries to speak while looking into his eye.
LUCIFER
Cain...
No answer.
LUCIFER (cont'd)
Cain, let's move, we have to stop them.
There's a moment of painful silence before either of them do anything.
CAIN
No.
Lucifer is about to say something when CAIN stands up.
CAIN (cont'd)
I have to.
CUT TO:
Blinking red lights illuminate the faces of tired military personnel. A sudden beep jolts one of them awake.
SECRETARY
What the hell... Sir?
And older looking man turns away from his book and looks at him.
COMMANDER DICK
What is it.
SECRETARY
We- uh... The radar picked up something odd.
The futuristic looking screen shows a massive area highlighted with yellow, the numbers next to it indicate a massive spike in energy.
COMMANDER DICK drops his book and chases for the phone to call his higher ups.
CUT TO:
CAIN is walking in a random direction he chose, clearly upset. LUCIFER is trying to keep up with him and eventually gives up and shifts in front of him.
CAIN
Get out of my face devil.
CAIN pushes him out of the way.
CAIN (cont'd)
Consider our partnership done for.
LUCIFER
What's has gotten into you? Going after them alone is a death wish!
Cain stares back at him.
CAIN
You and the angels. You're all the same, keeping secrets to yourself.
LUCIFER
I didn't know they actually went along with it.
CAIN
You heard rumors, saw the feather, and didn't tell me.
LUCIFER
So now you have to go against them alone?
CAIN turns away from LUCIFER
CAIN
I can't trust you. I never should have trusted you. A divine would never understand the way humans feel.
LUCIFER
Cain...
CAIN
Michael was right, I'm just a clay puppet to you... This is a goodbye.
He starts walking away, leaving his once partner behind.
The space behind them filled by the evening sky.
CUT TO:
Holy Officer KERN is staring out of a balcony. less than a week ago he helped with another church operation somewhere in the middle east. Something about extracting a grave.
He didn't really care about it all, and he hated the weather there.
To him, getting a paycheck at the end of the day was all that mattered, and if he got to exercise some power fantasies at the same time, he was satisfied.
As he turns back, there's an audible creek coming from the floor below him.
KERN
Damn those renovations. Who makes so much noise in the middle of the night.
Another crack is heard, this time much louder, seemingly right underneath his feet.
KERN (cont'd)
Jesus Christ, at this fucking hour?
KERN grows frustrated and stomps down on the ground a few times to let his neighbors know it's quiet time.
He goes for one more stomp for good measure.
In the span of second a hand bursts out of the floor and reaches for his ankle.
KERN (cont'd)
WHAT THE FUCK?
From the hole beneath him a single eye looks up in rage.
CAIN
Hello Kern.
CAIN pulls KERN'S entire body through the floor, wounding the man in the process.
Before he has any time to react, CAIN stomps on the officers face with enough strength to crack his nose.
KERN
You fucking bitch, crazy, disgusting freak.
As insults fly his way, Cain puts more weight on the man's face.
Kern lets out a loud yell.
KERN (cont'd)
What the hell do you want!
Cain picks him up by the collar of his bathrobe and slams him against a wall.
CAIN
Michael. Now.
KERN
I don't know anything about them you son of a bitch.
CAIN
Talk. Or you'll be pissing through a tube for the rest of your life.
KERN
You can't scare me.
CAIN grabs the man with both hands and slams him through the balcony door, but doesn't let go.
CAIN
Maybe this will.
KERN is now dangling up in the air, below him, roughly 300 meters of a drop.
KERN
Okay, okay, I'll talk, just let me go!
CAIN looks at him disappointed.
KERN (cont'd)
I mean, bring me in. Please.
With those words he gets thrown right back into the apartment and into the cupboards.
CAIN
Now. Tell me all you know.
KERN
The fucking angel. Michael, he made a deal with the pope, alright. It's all hush-hush and only the people who need to know about it.
CAIN
Tell me something I don't know.
KERN
Says he's doing some cleaning up. Getting rid of some sinners and bullshit. Scared the crap out of the Pope with that. So he rushed in to help the angel out. In exchange the church is gonna get excluded from it.
CAIN
Keep going.
Kern secretly reaches for an emergency call button in his pocket.
KERN
They're gonna be dumping off the grave at the edge of the town. There's a weirdo mountain there, locals say it's where witches gather. Has some fucked up history, y'know, all the usual crap.
CAIN
What's the place called.
KERN
Noctifer Valley.
CAIN walks up to KERN and looks him dead in the eye.
CAIN
If you're lying. Start praying.
As he's about to leave, Cain hears the sounds of police sirens from outside. He rushes for the balcony and looks down to see a whole department's worth of pigs.
CAIN (cont'd)
Big mistake.
As he turns back he sees KERN trying to escape the room. He rushes to grab him but a flash bang thrown into the room blinds him and forces him back out onto the balcony.
POLICE CHIEF
(On speaker)
SURRENDER YOURSELF AND COME OUT WITH YOUR HANDS BEHIND YOUR HEAD.
As if that's gonna happen. Cain thinks to himself.
He walks back inside the apartment and is immediately met with a dozen men aiming assault rifles at him.
POLICE OFFICER
On your knees.
CAIN doesn't budge. He only glares angrily at them with his single eye.
POLICE OFFICER (cont'd)
This is the last warning. Get. On. The. Flo-
He's cut off by CAIN reaching for his gun, immediately the men open fire at the suit wearer.
His body gets penetrated a countless amount of times and he falls to the floor.
POLICE OFFICER #2
Did we get him?
They get a little closer to the man's corpse. Keeping their aim locked tightly at him.
POLICE OFFICER
I think so, man, they made him out to be a bigger threat than this.
Not big enough.
CAIN grabs one of the officers by the throat and in a single gesture, snaps the man's neck.
Before the men can react, CAIN fires off his BFR Magnum Research revolver into their bodies.
As he's getting up off the floor he feels a clenching pain in his chest and looks down to see his white shirt completely drenched in red. He groans in pain and starts heading for the exit.
CUT TO:
Multiple officers dressed in heavy duty armor are making their way down a hallway. Heading for the door that CAIN reported to be in. KERN is running through the crowd and yelling.
KERN
HE'S RIGHT FUCKING IN THERE. NAIL THE GUY OR THE POPE WILL SEND YOU ALL GOOD FOR NOTHINGS TO HELL.
The cops all form a semicircle around the door, the bravest one gets close to the door and gets ready to kick it down.
Only to be met with a dress shoe flying through the wooden door that's headed right into his face.
CAIN doesn't waste time on them, he has quick aim, quick enough to clear out the squad in little to no time.
As he hears more incoming he chases for the staircase and makes a leap of faith all the way to the bottom. Guns blazing behind him.
At the last second he catches a railing and slams into the side of the stairs. Breaking multiple ribs in the process.
He jumps out of the nearby window and gracefully lands onto a trash heap.
CUT TO:
CAIN
Good riddance.
The wounded CAIN makes his way down the alley.
As he gets onto the street, something catches his eye. A cutely made table, with a sweet typically American dinner on the plates.
CAIN (cont'd)
What the hell...
He hears a faint female voice. A voice so familiar to him.
WOMAN
Hey Cain! Why don't you sit down and have a bite! It's your favorite!
CAIN looks around alarmed, not sure where the voice is coming from. He reaches for his gun.
But he's interrupted by a gentle tap on the shoulder.
When he dramatically turns around, no one is there, and the table with that familiar smelling food is gone.
CAIN
What... what the hell is wrong with me?
He lowers his weapon and clutches his chest. Something feels off about his body.
CAIN (cont'd)
I didn't bleed out that much... shit.
He momentarily loses balance and fells onto one knee.
WOMAN
Cain. Wake up. Cain.
Then in the span of a second. CAIN gets woken up to the sound of incoming cop car ramming right into his face.
CUT TO:
White picket fence. Freshly mowed lawns. Medium sized single family houses.
Quite frankly disturbing. CAIN thought to himself.
Everyone around him loved this neighborhood. It was like Eden, everyone kept trying to tell him.
He didn't understand why he hated it.
Technically he had everything anyone would've ever wanted. Yet he didn't feel like he had anything.
He was now sitting at his therapists office. His therapist was a short fellow with blonde hair, grown out fairly long, not kept super clean.
CAIN
Sorry doc. I know I'm supposed to open up more but it's not easy.
He sits up on the "Therapy Couch", as his therapist calls it.
THERAPIST
I feel like we've gone a few steps backwards lately Cain. I understand you're finding it troublesome to fully express your inner thoughts but lately it's been even harder on you. Is there anything going on in your life? Something hard to talk about?
CAIN thought about it for a moment. He looked out the window and saw the local police car, round looking machine. Made to look pleasant and not even remotely intimidating.
CAIN
Say, do you like this town?
THERAPIST
To be perfectly honest. I think it's simply fine. Nothing more, nothing less.
CAIN felt a sense of longing from the voice. He might not have been able to always explain his emotions but he could understand how others felt.
CAIN
Mhm. I see. I -
He looks up and realizes the clock is ticking uncomfortably close to 4pm.
CAIN (cont'd)
Oh crap, I'm gonna be running late. I'll see you next time doc.
He rushes out of the room.
THERAPIST
Remember to practice what I told you!
CUT TO:
CAIN was racing down the steep steps and practically leaps off the last few.
Maybe there wasn't much progress made in these sessions, but seeing the doc's face was usually somehow calming. Left him with a little less to worry about on his way to work each day.
As he approached his car, a faint crackling sound reached his ears. Not thinking much of it, he reached for the door handle.
Only for a whole army of small bugs to fall through.
CAIN
What the hell!
He tries to stomp as many as he can but they are seemingly never ending. He turns around and jumps down a railing, as the critters are overwhelming him. He hits the cement with more force than he imagined it would take. His legs give out and his momentum slams his head into the ground.
He slowly raises up, revealing to himself the puddle of blood his face created.
CAIN stares at his bloodied hands. Not screaming from pain.
He only feels reminded. Reminded of something.
CAIN (cont'd)
Of course, of course this would happen.
It always does.
CAIN (cont'd)
It always does.
CUT TO:
When CAIN wakes up, he finds himself handcuffed to a chair in a dimly lit room.
The taste of blood is still fresh on his tongue. That police car must've hit him hard.
But this isn't a police interrogation room.
Before he has time to think of any ways out, two men enter the room.
One of them is seemingly a military general, not a single scar on his face, he's a man who orders wars but doesn't fight them.
The other man is a familiar face in an ugly coat.
CAIN
Solomon.
SOLOMON
Hello Cain, to be honest with you, the chance of us meeting again in such a short span of time was rather low in my eyes.
CAIN
Let me go.
The general takes his turn to speak.
GENERAL
Good evening mister Cain, I'm -
CAIN
LET ME GO!
CAIN doesn't care about the general or what they want from him, he pull sharply on the handcuffs but a piercing pain in his stomach stops him.
CAIN (cont'd)
I have things to do you sick fucks.
GENERAL
Cain, we want to offer you a way to achieve your goal. We just need something in return.
CAIN looks up at the general with rage painted on his face.
SOLOMON
Basically, they want the grave. It's a great power source which is something the US government would benefit from. Up for it?
CAIN
Fuck no. After I'm done with him you're all next. Especially you Solomon.
SOLOMON turns back to the GENERAL.
SOLOMON
(Whispering)
Give me a moment with him alone, I'll persuade him.
The GENERAL nods and leaves the room.
SOLOMON (cont'd)
I thought he'd never leave.
He walks up to CAIN and releases him from his handcuffs.
CAIN
What the fuck?
SOLOMON
You didn't think I'd actually betray you, did you?
CAIN looks away from SOLOMON, slightly ashamed.
He really did think he was betrayed again. Something just wasn't letting him accept the idea that others might be there to help him.
CAIN
Just because you uncuffed me doesn't mean I have to immediately trust you.
Solomon opens his briefcase and throws CAIN his gun belt.
SOLOMON
Would this convince you?
CAIN stands up and puts the holsters on.
SOLOMON (cont'd)
Call it a Christmas gift.
CAIN
Is it really that late?
SOLOMON
Less than a week away from December.
CAIN touches his stomach and feels another pain.
CAIN
You wouldn't happen to have some painkillers on you?
SOLOMON
Right! Almost forgot.
He reaches back into the briefcase and chucks him a whole bottle of pills.
SOLOMON (cont'd)
No need to thank me.
CAIN
I wasn't going to.
CAIN hastily swallows some pills and looks back at SOLOMON.
CAIN (cont'd)
Why are you helping me.
SOLOMON
Bluntly, to stop the end of the world.
CAIN stops for a moment, almost spitting out his pills from the sudden shock.
CAIN
What.
SOLOMON
I've been following the lead pretty closely for a while now. Whatever the Vatican was doing smelled from a mile away.
CAIN
Doesn't it always.
SOLOMON
Correct. But this was worse. Michael is trying to merge a human body with an angel soul.
CAIN looks at him with intensity. This means Abel.
SOLOMON (cont'd)
It's like splitting an atom. We have to stop him or else he'll have the power to make the human race exti-
The suit wearing man interrupts him.
CAIN
I don't give a damn. I'm only going to finish what I started.
He walks up to the door.
CAIN (cont'd)
Michael. Abel. It all has to end. It's been following me around like a ghost for as long as I remember. If ending it will make human race go extinct, so be it.
SOLOMON
You don't really think that.
CAIN
Try me.
SOLOMON reaches into his briefcase one more time.
SOLOMON
Take this.
He hands CAIN a small piece of paper with angelic symbols on it. It smells of various fragrances and it's clearly been prepared a long time ago.
SOLOMON (cont'd)
To seal the power. In case you change your mind.
CAIN
You trust me with this?
He takes the note from SOLOMON.
SOLOMON
Call it a hunch. But I don't think you'll disappoint me.
He smiles at CAIN.
CUT TO: